Live the life you want
Whether you are planning to retire, or just give yourself more time to enjoy the fruits of your labor, our Business Improvement team can help you get there.
We will help you to achieve your goals and ensure your business flourishes. Our Business Improvement Consultants are successful business people in their own right, and know how to work with you in an enjoyable, supportive way to transform your business – in particular we bring disciplined processes to your business that help you:
Leverage your business to make more money and grow
Improve sales and marketing systems and your people
Lower your costs and automate processes
Improve your time management and delegation, and
Get your work-life balance right and live the life you want
Please take a minute to look at the diagram below. Where is your business now? If you are not in the top 5%, the most successful way to get there is to get help from people that have a track record of getting businesses into the top 5%. That's where we come in.
It is also a sad fact that a lot of business owners we meet are shocked when they find out that their business are worth not much more than the value of their stock and fixed assets – ie there is little or no goodwill value in the business.
As the diagram below illustrates, 75% of businesses have no (goodwill) value – and a lot of business owners only find this out after many years of hard work and realise it has all been for nothing. This is because most business owners don't get the right help along the way in the following key areas that underpin success in business:
Clarity and focus
Knowledge
Leverage and
Discipline
We help business owners in all of the above areas to achieve their goals and ensure they are a High Value Business.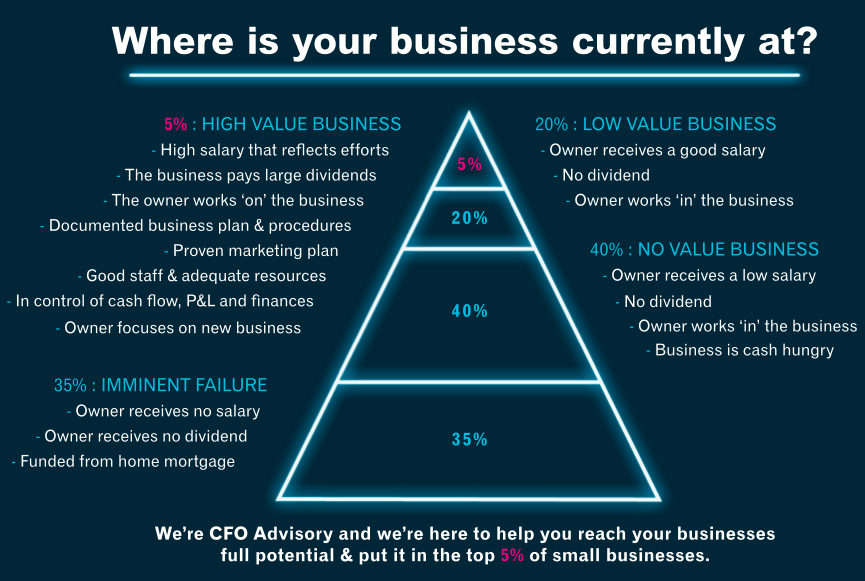 Don't be one of the 75% of business owners whose business is worth nothing – call us now for a free, no obligation appraisal of your business on 1800 919 321 or email us at info@cfoadvisory.com.au